Energy and Climate Change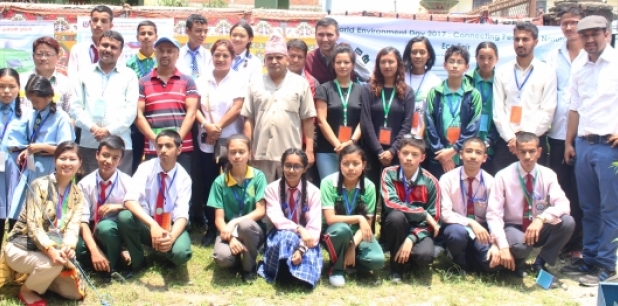 On the occasion of World Environment Day, 2017: Connecting People to Nature Clean Energy Nepal organized an Eco – Fair on 4th June, 2017 at the CEN office premises, Satdobato, Lalitpur. The main objective of the Eco-Fair was to aware, educate and provide smart solutions on environmental issues to school children, community people and individuals.

Nine different schools from the Valley along with seven organizations working in environmental management sector exhibited on Eco-Fair. The materials displayed during the eco-fair include; Inclusive Urban road model and chart, Green homes, Energy efficiency of electric bulbs, Roof top farming, Air pollution scenario; sources, effect and solution, Improved cooking stoves (ICS), Hydraulic ramp pump, Eco-City models, Sloping agricultural land technology (SALT), Vertical gardening, Management of Glacier Lake Outburst Flood (GLOF) model, Alternative energy models, Dust to brick making process, Air purifiers and indoor air monitoring device, Bio gas, Rain water harvesting, Vermi-composting, reused and recycled materials. The eco-fair also comprised eco-quiz, games and documentary show on different environmental issues.