Event News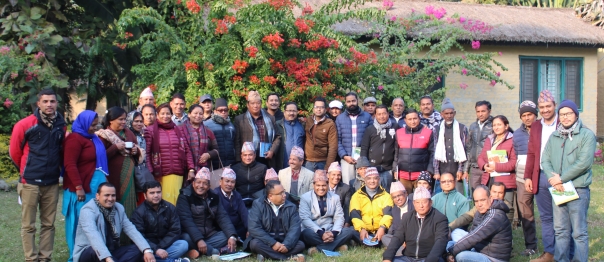 With the objective to sensitize and capacitate the Municipal Planners and policy makers to towards environmental issues, "Two Days Training Workshop on Solid Waste Management and Municipal Law Formulation Process" was held in Thakurdwara, Bardiya. The high level training workshop was jointly chaired by Mayor of Nepalgunj Sub-Metropolitan City Dr. Dhawal Samsher Rana and Mayor of Birendranagar Municipality; Mr. Dev Kumar Subedi. Other distinguished guests including Deputy Mayor of Birendranagar Municipality, Executive Officers of both the municipalities, Division Heads, Ward Presidents and Engineers were also present in the program.
Mr. Rajan Thapa, Program Manager, CEN shared the objective of the training program and highlighted the project activities and achievements while welcoming all the distinguished guests.
Director of Law, Mr. Basanta Acharya from Kathmandu Metropolitan City presented on the Overview Local Government and Local Law Formulation Process. Stressing Law as means and Justice as Ends, he said that ignorance of law is unexcused. He said that "Law should be formulated, directed, enforced and be facilitative". He elaborated the basics of Local Law formulation where equality, unbiased decisions and integrity is most while discussing about the hierarchy of law.
Er. Rabin Man Shrestha, Director of Environment Management Division presented on the Current scenarios of Municipal Solid Waste Management in Kathmandu. Introducing the session in a participatory approach aided with rounds of quiz, concepts and understanding about solid waste, rain water harvesting, roof top gardening, composting and segregation were discussed among the group. "The first and foremost problem is our own attitude towards waste", he added. He shared his two decades of experience suggesting provision of waste management fee from polluters and devoting Public Private Partnership (PPP) model in waste management to be sustainable, effective while sharing about the City Service Center.
Mr. Acharya then facilitated the discussion on formulating Effective Environmental Policies with focus on specific articles and clauses of the local law. "Challenges are inevitable in waste management but how successful/unsuccessful you are; is defined based on how effectively you handle the situation with a safe landing", he said. He further stressed that issue of conflict that can arise due to misunderstanding of the law.
Mayor of Birendranagar Mr. Dev Kumar Subedi appreciated the effective mechanism and a platform for collaborating and coordinating among Municipalities and share his excitement to learn from the experiences of the oldest Metropolitan City.
Mayor of Nepalgunj Sub-Metropolitan City Dr. Rana said that the innovation and experience is worth sharing. Focusing environmental degradation and climate change impacts, he said that the natural cycle is disturbed. "15 years back, people used to visit Terai from Hills during winter to shed cold. The scenario has now changed, it's more cold in Terai than in the Hills; A clear example of climate change", he said.
The training workshop was jointly organized by Clean Energy Nepal, Oxfam Nepal, Arbonaut Ltd., Bheri Environmental Excellence (BEE) Group and Environment Development Society (EDS). This training was organized as one of the activity of the Project "Building Resilience and Climate Adaptive Planning in Urban Centers of Nepal" supported by the Nordic Development Facility (NDF).