Event News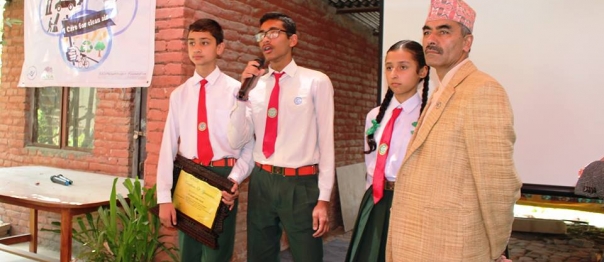 I Care for Clean Air Campaign was initiated from September 2016 with an objective to aware and sensitize the school students, community and susceptible groups to raise the air pollution issues through media. The major achievements of the campaign were mass awareness to community and susceptible groups, awareness and sensitization to about 800 school students from 10 schools and active media mobilization throughout the campaign. "I Care for Clean Air" award ceremony was held to appreciate all the youths, academic institution, media and students engaged in the campaign organized by Clean Energy Nepal in support with Go Philanthropic Foundation on 18th May, 2017 at the office premises of Clean Energy Nepal.

Ms. Jyoti Prajapati, Clean Energy Nepal, presented the overall activities carried out throughout the campaign followed by remark from Mr. Rajan Thapa, Program Manager, Clean Energy Nepal on the importance of the campaign. He stated that campaigns are helpful to draw attention of media and government to act against air pollution. Students should be aware on such matter and act for clean air rights through the eco-club and individual level.

PSA (Public Service Announcement) Jingle on air pollution was exhibited to the audience followed by the video documentary titled Air Pollution- Problem and Solution in Kathmandu Valley.

The campaign would not have been successful without the youths and the schools involvement. The campaign started with 16 clean air ambassadors, which added to 36 at the end of the campaign. To encourage all the youth volunteers and stakeholders for their active participation, certificate of appreciation was handed over where the best clean air ambassador, best school and teacher was announced at the end of the program. Mr. Rohan Shrestha was awarded as the "Best Clean Air Ambassador" for his dedication and outstanding performance throughout the campaign. Likewise, among 10 schools, Occidental Public School was awarded as the "Best school" for their active participation and coordination throughout the campaign. Similarly, the most co-operative and supportive teacher, Mr. Hira Lal Mokatn form Bright Future Higher Secondary School was awarded as the "Best teacher",

Mr. Bharat Basnet, Chairperson, Clean Energy Nepal remarked that everyone should know and share the issues of air pollution. He suggested the teachers to motivate the students for the conservation of environment as well as raise the environmental issues like air pollution to the concerned authorities for the betterment of their environment.

About 60 participants from schools, colleges, media and individuals participated in the program.