Event News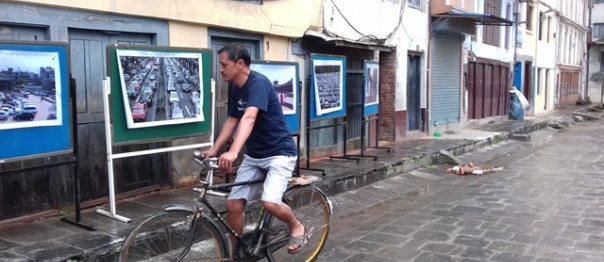 With the objective of reclaiming the street for the promotion of non- motorized transportation, 4th vehicle free campaign "KTM Walks" was organized on Saturday, 17th September, 2016 at Killagal Kathmandu. This time the campaign was initiated by Star club (one of the active local club of Killagal) which was supported by several organizations including Clean Energy Nepal, Resource Centre for Primary Health Care and other local clubs. The stretch from Bhedashing to Naradevi was allocated for KTM Walks where different promotional activities such as games, food stalls, photo exhibition etc were carried out from 7am to 7pm to restore the historically important stretch.
KTM Walks held in Killagal was registered in European Mobility Action, European mobility week, a forum under European Commission that celebrated car free day/weeks and events with the registration of events in 2424 cities from 51 countries. One of the highlighted activities of the event was cycle rally, where more than 200 cyclists participated from the diverse sectors. The rally was organized by the delegation of European Union together with Cycle City Network Nepal. Most of the participants of the cycle rally expressed that it was a great effort for promotion of walking, cycling, culture and tradition. They remarked that walking and cycling culture can be developed through campaign like KTM Walks.
As the event was organized during "Indrajatra"- festival of god of rain, the main attraction of the day was "Pulukisi Nach" (a cultural elephant dance performed during Indrajatra) which was enjoyed by all the people walking on the street. During the event, different activities such as cleanup program, heritage walk, slow cycle race, food stalls, cultural program, musical shows, and games for children were organized.
Realizing the opportunity of economic up-liftment through cultural conservation and tourism with addition to health and environmental benefit, the community has committed to make KTM Walks a monthly event, which will be organized on the first Saturday of every new month. Observing the success of KTM Walks, the nearby communities have also expressed their interest to celebrate such event. Chandra Kumar Maharjan of Star Club, the organizer said, "This campaign can change not only the face of Killagal but also the entire core of Kathmandu city. We can see prospects of Killagal being a cultural heritage site where tourism can flourish even more through KTM Walks."
KTM Walks campaign has made the space more livable and vibrant. The next KTM walks will be held on 22nd October in the leadership of youth club called WE THE ONE.