Event News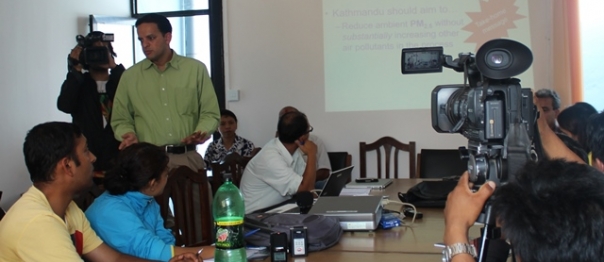 Clean Energy Nepal (CEN), Clean Air Network Nepal (CANN) together with Nepal Forum of Environmental Journalists (NEFEJ) and the International Center for Integrated Mountain Development (ICIMOD) organized a press meet to disseminate the truths associated with Air Pollution in Kathmandu Valley on 6th June, 2016. The meet aimed to clarify the hyped news in media on position of Kathmandu as the third most polluted city in the world and first in Asia and to enhance knowledge and share facts about air quality in the valley.

Mr Rajan Thapa, CEN and CANN explained about existing policies and standards of air qulaity in Nepal and requested media to report by citing toauthorized sources only. Mr Prakash Bhave, ICIMOD revealed that Kathmandu ranked 261 among 2673 cities in the world in term sof air quality (WHO Global Urban Ambient Air Pollution Database, 2016). He further highlighted that open waste burning is one of the major source of air pollution emitting harmful toxic gases in Kathmandu along with the vehicular emission. Mr Laxman Upreti, former Chairman of NEFEJ stressed on need of research on transboundary issues as well. Dr Ram Narayan Shah informed on the impacts of air pollution is more severe to children and ageing people. Mr Kamal Raj Gosai, CEN expressed that the Government of Nepal should ensure the rights to live in fresh environment. He also opined that media persons are agents to relay the truth to people and should relay authenticized news only.
Over three dozens of journalists participated in the program.