Event News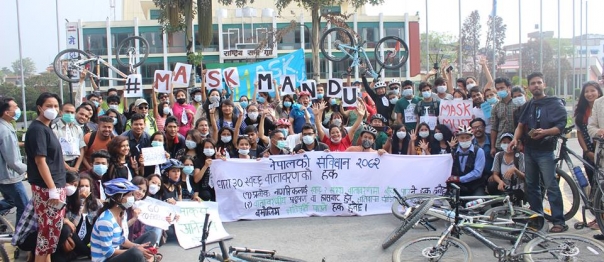 The "Campaign for Clean Air Rights" led by a group of youth representing different organizations, civil entities, institutions and youth networks was kicked off on June 5th at Exhibition Road in front of Sabha Griha. Youths performed flash mob followed by a symbolic protest where the activists laid on the ground with mask on their face demanding urgent action against the hazardous and life threatening level of air pollution in Kathmandu Valley.
World Health Organization's (WHO) air quality report of 2016 have listed Kathmandu one of the most polluted cities in the world and that the air quality of Kathmandu is five times worse than WHO recommended guidelines. A study by the Ministry of Population and Environment in 2005 estimated 1600 premature deaths related to air pollution in Kathmandu Valley.
Therefore, to draw the attention of government and policy maker towards the deteriorating air quality in the valley, the group has also started an online petition demanding the government to ensure the people's right to live in a healthy and clean environment which is stated as a fundamental right in the Article 30 of the constitution of Nepal 2072. The petition was submitted to the Ministry of Environment on 4th June with a demand to declare Kathmandu Valley a 'Mask-Must Zone' until air quality comes down as per the National Air Quality Standards.
The petition includes the points like Formulation of 'Comprehensive Clean Air Action Plan' under urgent, mid-term and long term strategy and legal measures, installation of air pollution monitoring stations, Devise stringent vehicle emission standard, enforcement of green sticker provision and take polluting vehicles off the road, upgrade the fuel standard including provision of cleaner fuel, and mandatory provision to use emission control technologies especially in diesel vehicles, promotion of non-motorized transport system by building safer infrastructures for walking and cycling, action to reduce pollution from brick kilns and usage of diesel generators, Banning of open solid waste burning practices.
The organizations are involved in "Campaign for Clean Air Rights" are as follows:
Aakar Nepal
Clean Energy Nepal (CEN)
Clean up Nepal
Cycle City Network Nepal (CCNN)
Digo Bikash Institute
Golden Gate Int'l College
Institute for Urban Development and Policy Research - IUDPR
Jiwanta Nepal
Kathmandu Cycle City 2020
National College
Nepal Forum of Environmental Journalists (NEFEJ)
Nepalese Youth for Climate Action (NYCA)
Power Shift Nepal
Resource for Primary Health Care (RECPHEC)
Rotract Club of Kupandole
Tourism Development Endeavors (TUDE)
We Inspire Nepal
Youth Thinkers Society (YTS)
YUWA