Event News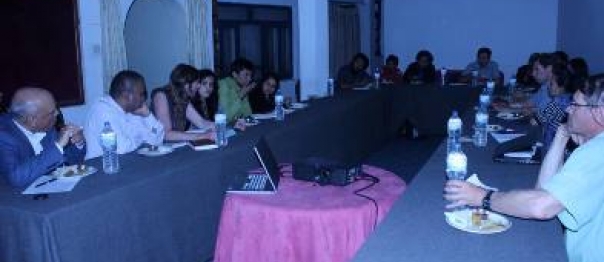 Clean Energy Nepal organized a Talk Program with Michael Northrop* on the Title: Why is Paris different than Kyoto! A US Perspective on 4th May, 2016at Sap Falcha, Babarmahal Kathmandu. The talk program was attended by 20 various distinguished personalities representing from academic institutions, civil society organizations and international organizations.
In the program, Mr. Northrop highlighted the outcomes of Paris Agreement. He mentioned that USA and France have done an instrumental task to bring countries to come to the agreement. He shared happiness to his country that the US was a driving force in discussions and the President was determined to leave behind a Presidential legacy before he steps down. He added that US stepped up to lead the world and coordinated with China, India Brazil, Mexico, and Small Island states and other countries. He expressed that there was an amazing cooperation from corporate communities too and they showed interest to act against the climate change. Hundreds of companies showed readiness to divest from the coal to renewable and contribute to reduce emission by 80% by 2050. Health care industries, religious groups, public, educational institutions etc aligned to raise voice against use of fossil fuel and in favor of clean energy in the States. He is hopeful that the new leadership in the US will also work for reducing the impacts of climate change. He opined that this kind of agreement should have come 20 years before.
Sharing the statistics of renewable energy around the world, he mentioned that in 2004 the world invested about 45 billion dollars in renewable energy but 10 years later the world invested 300 billion dollars, there are renewable energy policies in 164 countries whereas it was only 48 countries in 2004. So, he showed optimism that there would be huge shifts from non-renewable energy to renewable and environment friendly energy sources.
The discussion concluded with a note that Paris agreement is very optimistic and it provides a very good long term prospective and framework but there are lot of works to be done in the country level and we also need to make sure all the commitments are fulfilled timely and the multilateral processes, the INDCs, monitoring, reporting, and the global climate fund etc and other processes are accomplished on time. Whether it is a success or failure will, however, depends on what follows not only at international but also national and subnational levels.
*Michael Northrop is the program director for the Sustainable Development grant making program at the Rockefeller Brothers Fund where he focuses on climate change and energy. Northrop has been a lecturer at Yale University's Forestry and Environmental Studies School for the last 14 years, where he has taught a course on environmental policy campaigns.