Event News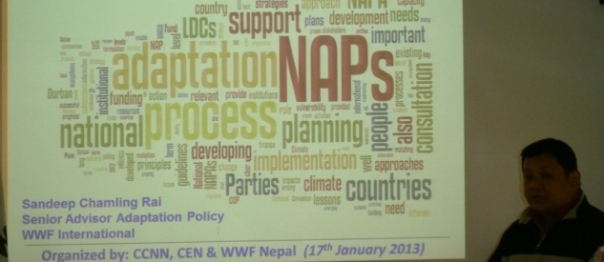 An interaction program titled "National Adaptation Plans (NAPs) in Nepalese Context" was organized in Kathmandu to initiate discussion among stakeholders about medium and long term adaptation plans to climate change impacts. National adaptation plans (NAPs) are a process to enable developing countries to formulate and implement national adaptation plans, building upon their experience in preparing and implementing national adaptation programmes of action, as a means of identifying medium- and long-term adaptation needs.
Mr. Sandeep Chamling Rai, Senior Advisor Adaptation Policy for WWF International shared a brief presentation and introduced the concept of National Adaptation Plans, the framework behind it and the key processes a country needs to work while forming NAPs.
Participants highlighted that the NAP process should compliment National Adaptation programme of Action (NAPA) and the implementation of these documents should be of high priority. Similarly, different vulnerable groups to climate change should be included on the process of NAP formulation, so that the voice of the concerned sector will be heard.
Speaking at the program, Mr. Batu Krishna Uprety, vice chair of LDC expert group said that the role of different government line agencies will be very important while framing National Adaptation Plan at the country level. He also informed that LDC Expert group has prepared technical guideline for the formulation of NAPs.
Raju Chettri of CAN said that the government should plan to make best use of lessen learnt from National Adaptation Progarmme of Action (NAPA) and national expertise while framing NAPs. Dr. Jagdish Baral raised concern that NAPs should compliment the NAPA and our priority should always be to implement these plans.
The program was organized by Clean Energy Nepal (CEN) together with WWF Nepal and Climate Change Network Nepal (CCNN) at WWF Nepal office, Baluwatar on 17th January 2013.
The program was attended by 25 participants representing different agencies working on climate change and was helpful in understanding NAPs process in United Nations Framework Convention on Climate Change (UNFCCC) including difference between immediate, mid-term and long term interventions that are required for adaptation to climate change impacts.