Event News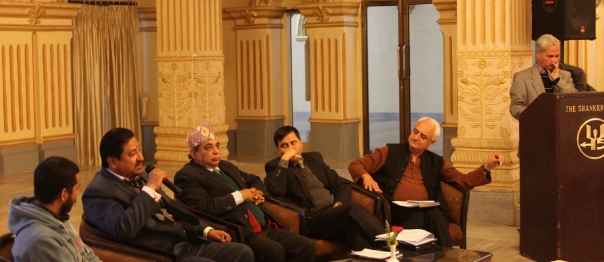 Clean Energy Nepal (CEN) and Clean Air Network Nepal (CANN) in collaboration with Ministry of Physical Planning, Works and Transport Management (MoPPWTM) organized "Kathmandu Sustainable Urban Mobility Forum II" on 21st December at Hotel Shanker.

The purpose of the forum was to inform and sensitize stakeholders on sustainable urban mobility, share best approaches/initiatives and forge collaboration and coordination among various governmental, non-governmental and private sectors working on urban transportation. The program also discussed the challenges, way ahead for improving urban transport system.

In keynote speech, Mr. Tulasi Prasad Sitaula, Secretary of MoPPWTM highlighted the recent initiatives and plans to improve the mobility of Kathmandu Valley. Mr. Sitaula mentioned that "the air pollution and traffic congestion is at a precarious state, which has questioned the livability of the city". He said that the ministry is working to make transportation more sustainable, and highlighted that this is only possible if the government and people work together.

Mr. Bhushan Tuladhar, South Asia Technical Advisor for UN-HABITAT presented the existing urban transport system and air quality scenario in Kathmandu Valley. He said that the Kathmandu has a bowl shaped topography, which traps the pollutants, thus the city should do much more than other cities to manage the air quality of the city. He shared best practices/initiatives on sustainable urban mobility from around the world and recommended to adopt people-centered approach in transport planning to address urban transport problems and air pollution.

The author of 'The Third Mode' and Architect- AltaPlanning+Design, Mr. Jeff Olson shared his insights and experiences in promoting non-motorized transport system in US cities. He highlighted the importance and benefits of prioritizing walking and cycling in urban transport planning.

Mr. Prashanta Khanal from Clean Energy Nepal highlighted the existing scenario of public transport system in the city. He suggested to introduce affordable Bus Rapid Transit system integrated with trolleybus instead of expensive metro system. He highlighted the necessity of single authority to oversee the overall urban mobility issues in the Kathmandu Valley.


The presentations were followed by panel discussion on Non-motorized Transport system and public transport system. The panelists were Mr. Tulasi Prasad Sitaula- Secretary, MoPPWTM; Mr. Kanak Mani Dixit- Chairperson, Sajha Yatayat; Mr. Kedar Adhikari- Executive Officer, KMC; Mr. Bijaya Bahadur Swar- Senior Vice President, FNNTE; and Mr. Shail Shrestha- President, KCC2020. The discussion was facilitated by former Joint Secretary of MoPPWTM Mr., Kamal Raj Pandey, and discussed on the existing challenges and way ahead for improving NMT and public transport system.

Ms. Krity Shrestha from CEN/CANN presented the status of Vehicle Emission Testing Program in Nepal. She also shared the best practices of vehicle emission inspection and maintenance system in Srilanka and US. She suggested to upgrade the existing VET system and strong enforcement to lower the emission from the motor vehicles.

The session was followed by open discussion on the challenges, opportunities and way ahead to improve the urban mobility.

Around 50 participants from different governmental and non-governmental organizations, transport associations, academia, and media attended the forum. CEN/CANN organized similar forum last year. The forum was supported by Fredkorpset-Norway, Clean Air Asia, and UN-HABITAT.

For more pictures from the forum: Click here