Event News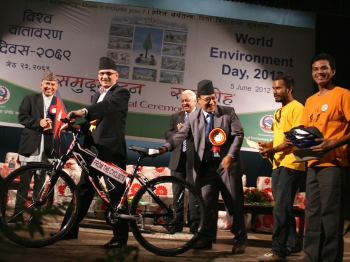 Shail Shrestha, president of 'Kathmandu Cycle City 2020' handing a bicycle and helmet to Hon. Prime Minister Dr. Baburam Bhattarai during World Environment Day. (Photo Courtesy: Rajan Kathet/KCC2020)
A bicycle was gifted to Hon. Prime Minister Dr. Baburam Bhattarai today on the occasion of Environment Day at a program organized by Ministry of Environment, Science and Technology held at Nepal Academy Hall, Kamaladi.
The bicycle was bought from the fund collected from participant cyclists of Mega Cycle Rally conducted on April 6, 2012 in association with Clean Energy Nepal, Clean Air Network Nepal, Nepal Unites, World Cyclist's Foundation, Come On Youth Stand Up, Step for Miles, Rotaract Club, Nepalese Youth for Climate Action, Association of Youth Organizations Nepal, and Resources Himalaya.
The gifted bicycle is a Jomsom Bike, made for Nepal, assembled in Nepal, by Chain Bikes, which the organizers hope the PM will use after his much hyped 'made in Nepal' Mustang Jeep.
The purpose of the event is to draw attention and pressurize PM and concerned stakeholders to build dedicated cycle lanes throughout the city to ensure the safety of cycle users and their rights for safer mobility. It also aimed to encourage usage of bicycles, promote cycle safety and demand to prioritize cycling as an important element of sustainable urban transport in National Transport Policy.
Cycle being a sustainable means of transport fits well into World Environment Day 2012 theme: "Green Economy: Does it include you?"
Media Coverage
http://onlinekhabar.com/2012/06/169123.html
http://www.unn.com.np/index.php?pageName=news_details&catId=21&id=7882
http://www.thehimalayantimes.com/fullNews.php?headline=Mustang+rider+PM+gets+Jomsom+Bike+on+Environment+Day&NewsID=334894
http://www.nepalitimes.com/gallery/mainphoto.php?id=1785