Event News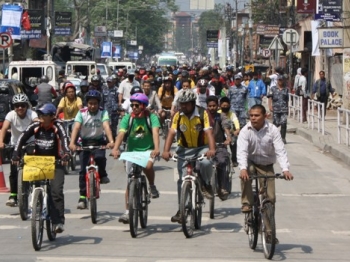 Around 400 cycle users and other hundred people joined the cycle rally demanding dedicated cycle lanes throughout the city on April 6.

During the cycle rally, petition letter demanding the cycle inclusive city was submitted to Metropolitan Traffic Police Division, Kathmandu Valley Town Development Committee, Ministry of Physical Planning and Works, Department of Roads and Kathmandu Metropolitan City. Meanwhile, funds were collected voluntarily from cycle users to gift Prime Minister a cycle, a symbolic action to pressurize Prime Minister to promote cycle in the city.

This is also organized in the meantime that the government is widening roads with a demand to include cycle lanes in widened road.

Renowned artists/comedians Mr. Madan Krishna Shrestha and Mr. Haribansa Acharya emphasized the needs of cycle lanes for safer mobility. "We people spend Kharab (billion rupees) to import oils form Arab and burn them to smoke", sarcastically said Haribansa Acharya, and asked people to opt cycle for their daily mobility.

Popular Journalist and Human Rights activist Mr. Kanak Mani Dixit, Environmentalist Mr. BhushanTuladhar, Former Environment, Science and Technology Minister Er. Ganesh Shah, World Cyclist Mr. Puskar Shah, Journalist and Head of BBC Nepali Service Mr. Rabindra Mishra and Eco-entrepreneur Mr. Bharat Basnet were among the prominent figures who participated in the rally. Speaking to the participants, they emphasized the needs of cycle lanes and demanded justice for Dr. Prahlad Yonzon who was killed in road accident while cycling back home on 31st October 2011.

Sagar Prasain, an activist for rights of differently able people, said that cycle lanes not only benefits cycle users but also provides safer spaces for people in wheelchairs.

The petition letter calls for cycle inclusive planning & development, policies and bicycle master plan in the city.
Demanding to implement the decision of metropolitan city 10 years ago to build cycle lanes in Tinkune-Maitighar immediately, the rally participants demanded network of cycle lanes throughout the city including Ring Roads, river corridors and arterial roads. The rally also demanded to stop the flyovers project that encourage car usage and discourage non-motorized transport users, and emphasized to build safer streets for all the road users including differently able people.

The cycle rally was jointly organized by Kathmandu Cycle City 2020, Clean Air Network Nepal, Clean Energy Nepal, Nepal Cycling Association, Come on Youth Stand Up, Nepalese Youth for Climate Action, World Cyclists Foundation, Rotaract Club of Kathmandu, Nepal Unites, Association of Youth Organizations of Nepal.


For more pictures:
http://www.facebook.com/media/set/?set=a.10150624753481179.384133.645316178&type=3
http://www.facebook.com/media/set/?set=a.10150771962591648.469151.321783186647&type=1
News coverage of Cycle Rally:
http://www.ekantipur.com/2012/03/18/oped/from-heaven-to-hell/350749.html
http://myrepublica.com/portal/index.php?action=news_details&news_id=33406
http://www.ekantipur.com/2012/04/01/capital/mega-rally-on-april-6-to-press-for-cycle-lanes/351572.html
http://www.youthforpt.org/?p=4159
http://www.nagariknews.com/society/nation/38917-2012-04-05-04-08-53.html
http://nepalitimes.com/issue/2012/04/10/LifeTimes/19175
http://halchalsansar.com/03-31-12/Mega-Cycle-Rally-.html
http://www.unn.com.np/index.php?pageName=news_details&catId=17&id=5375
http://www.facebook.com/photo.php?fbid=2791616960604&set=oa.10151484653240624&type=1&ref=nf
http://onlinekhabar.com/2012/04/144995.html