Event News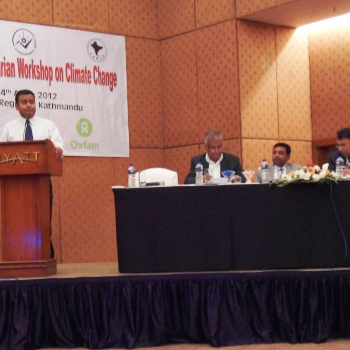 High population densities, a large concentration of poverty, and the regional climate variability have all combined to make South Asia especially sensitive to the consequences of climate change. Climate change has the potential to compound existing development problems and to increase pressure on key resources needed to sustain growth. 40% of poor and vulnerable people in South Asia live with less than US$ 1.25 a day has limited capacity to adapt to changing climate patterns and will be the most affected by climate change.
Parliament members and experts from Bangladesh, Bhutan, Nepal, Pakistan and Sri Lanka assembled for a regional climate change actions in South Asia. The ' South Asian Parliamentarian Workshop on Climate Change' in Kathmandu on 4 April 2012 was organized by Ministry of Environment, Government of Nepal, Climate Action Network, South Asia and Clean Energy Nepal with support from the European Union and Oxfam. The parliamentarians and the experts concluded in one voice on the need to augment efforts at various level of Governance complimented by regional cooperation to protect vulnerable poor.
In the opening session, Honourable Hemraj Tater, Minister of Environment, Government of Nepal extended his strong support to the civil society initiative to foster regional collaboration on climate change. Former ministers of Nepal, Deepak Gyawali and Ganesh Shah reinforced equity and justice are the central issues the developing countries need to take up in the global climate change negotiations. Secretary Krishna Gyawali, Ministry of Environment called for cooperation among South Asian countries for a collective fight against climate change. CANSA board member Mr Bhushan Tuladhar said climate change is also an opportunity to enhance mutual support among the SAARC countries.
The technical session provided a review and assessment of South Asian Climate Policy and SAARC declarations presented by Clean Energy Nepal Manjeet Dhakal and Equity and Justice on post Durban debate by Sanjay Vashist of Climate Action Network South Asia. Parliament members engaged in the panel discussions being moderated by Anil Chitrakar, wherein each of them shared the knowledge, skills and resources across South Asian that can be utilised for regional cooperation.
In the program, Parliamentarian members from Bangladesh, Bhutan, Nepal, Pakistan and Sri Lanka shared experiences of the impact of climate change in their respective countries. Nawab Zada Shams Haider, member of Parliament, Pakistan said, there should be a joint investment on development and sharing of Hydropower in the region as a fast track approach to shift to clean energy. Aang Dawa Sherpa, member of constituent assembly, Nepal called for more consultations among parliamentarians in the region to come on the common